Springfield's Business Bank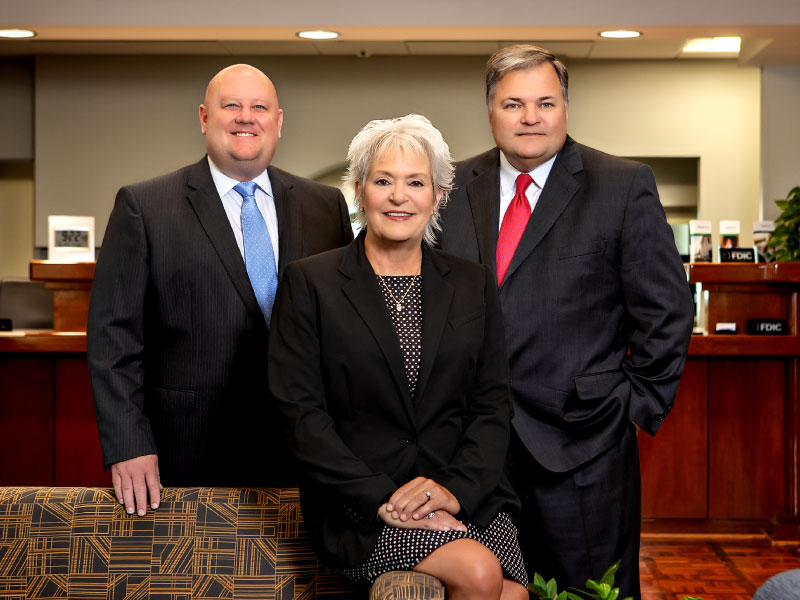 We know that Springfield is home to several outstanding financial institutions and certainly doesn't need another bank, but we believe you will find that Regent Bank is a little different.

Regent Bank started in 2008 with a vision to be the region's premier business bank for small and mid-market business owners. We are different because we are owned and operated by small business owners and were designed to serve business owners. We have close personal relationships with our clients, we add value beyond traditional banking services and give back to our communities. We really listen to you because we have been right where you are.

We came to Springfield because we love this market. It is entrepreneurial, innovative and resilient. We sought out the best banking team and local shareholders in the market and we have been very blessed to find them. Our team of senior community bankers has tremendous authority and we believe Regent Bank will feel as local as any bank in Springfield. Our goal is to build a significant long-term presence here and consistently serve this community for a very long time. We hope the seven questions below will tell you a little more about Regent Bank.
Regent Bank is a 120 year-old community bank that started in Nowata, OK. The investment group, Regent Capital Corporation, purchased the bank in 2008 and expanded into Tulsa, OKC and now Springfield. We are still Nowata's hometown bank and we have a strong agriculture lending presence there, but in our metro markets, we cater to small and mid-sized companies with credit needs less than $20 million, high net worth individuals and medical professionals.


Regent Bank has won many recent awards including ICBA Central U.S. Community Banker of the Year, Best Places to Work, Best of the Best, the SBA Financial Services Champion, and the Extraordinary Bank Award given to the top 1% of U.S. community banks.
First and foremost, we have an amazing team of seasoned banking professionals who also have servants' hearts. Regent Bank always has very attractive deposit rates. We charge NO FEES on business checking accounts (for both for-profit and non-profit entities) if you have less than 500 transactions and maintain balances over $50,000.


We also offer a variety of proprietary programs to help businesses achieve their goals. Our loan underwriting strives to be very 'common-sense oriented' with minimal disruption to our clients. Finally, we care about our clients deeply. Many banks maintain a healthy distance from their clients, but we view our clients as our family. In Springfield, our goal is to maintain a very exclusive set of clients and offer them proactive personal service like they have never experienced at a financial institution.


Regent Bank is widely held with 200 regional shareholders, including many from Springfield. Our local advisory board will help President Mick Nitsch lead this market , and he and his team will have tremendous autonomy. We have very high hopes for Regent Bank-Springfield.
Regent Bank has experienced remarkable growth from $72 million in asset in 2008 to over $1 billion today. Our loans have grown from $45 million to over $873 million! Amazingly, our regulatory ratings, credit quality and corporate culture have all improved at the same time.


We have been blessed with amazing employees and a remarkable shareholder group of over 200 local business owners and executives. As we have grown, our lending limit has grown as well and we can now loan a single entity over $12 million (and this should increase to $14 million early next year). We also decided a few years ago to stop trying to 'sell' to people, but focus on helping them. So, we have many innovative programs to help our clients and potential clients become more successful.
We provide many free resources to the business owners and leaders in our markets. These include the Executive Luncheon Series (a free monthly luncheon with business speakers), Regent Elite (a semi-annual executive training program), Faith in Business (a free monthly breakfast with a spiritual focus), and Regent Elevate (our weekly business resource video on social media).

Regent Bank has also been innovative in serving market niches that seem to be underserved. In 2017, we launched two new divisions- The Healthcare Private Bank, led by Charlotte Mindeman, services the medical community including doctors, dentists, veterinarians and optometrists. Our Hispanic Banking Division, led by James Sanchez, focuses on serving the Hispanic business population. Our Agriculture Lending Division, led by Derek Dick, has a goal of being the region's premier ag bank. All of our divisions are exceeding expectations.
We believe our future is very bright if we continue to focus on our clients' needs and maintain a great company culture for our employees. Our structure is very decentralized so we will always seem small and nimble, even as we continue to grow. We will continue to invest in the latest technology so our clients will never have to visit the bank, unless they want to. We recently completed a $12 million capital raise so we are poised for continuous growth in this region.

Regent Bank just made two very exciting announcements in early 2018. First, we are entering the Springfield market with an amazing team! Second, we announced our new Non-Profit Division and Non-Profit Leadership Series. We are providing world-class training and resources to Tulsa area non-profit leaders at absolutely no cost to them.

Regent Bank will continue to be opportunistic and expand into markets of 1 million or less in the central part of the United States, but each market will operate autonomously and feel like its own community bank.
Studies show that community banks invest more in the local community (we participated in 200 local community events last month!), make more small business loans and have lower fees than megabanks. Community banks know the community and care about our neighbors. Unfortunately, the number of community banks has dropped from 14,000 to less than 5,000 today and 1 in 4 local banks as vanished since 2008. We have seen this trend happen locally as well.

We believe that community banks like Regent Bank are the lifeblood of our communities. I think you will find that our technology is just as good as the megabanks, our fees are lower, and our rates are better. Plus, we know your name every time you call or visit us!